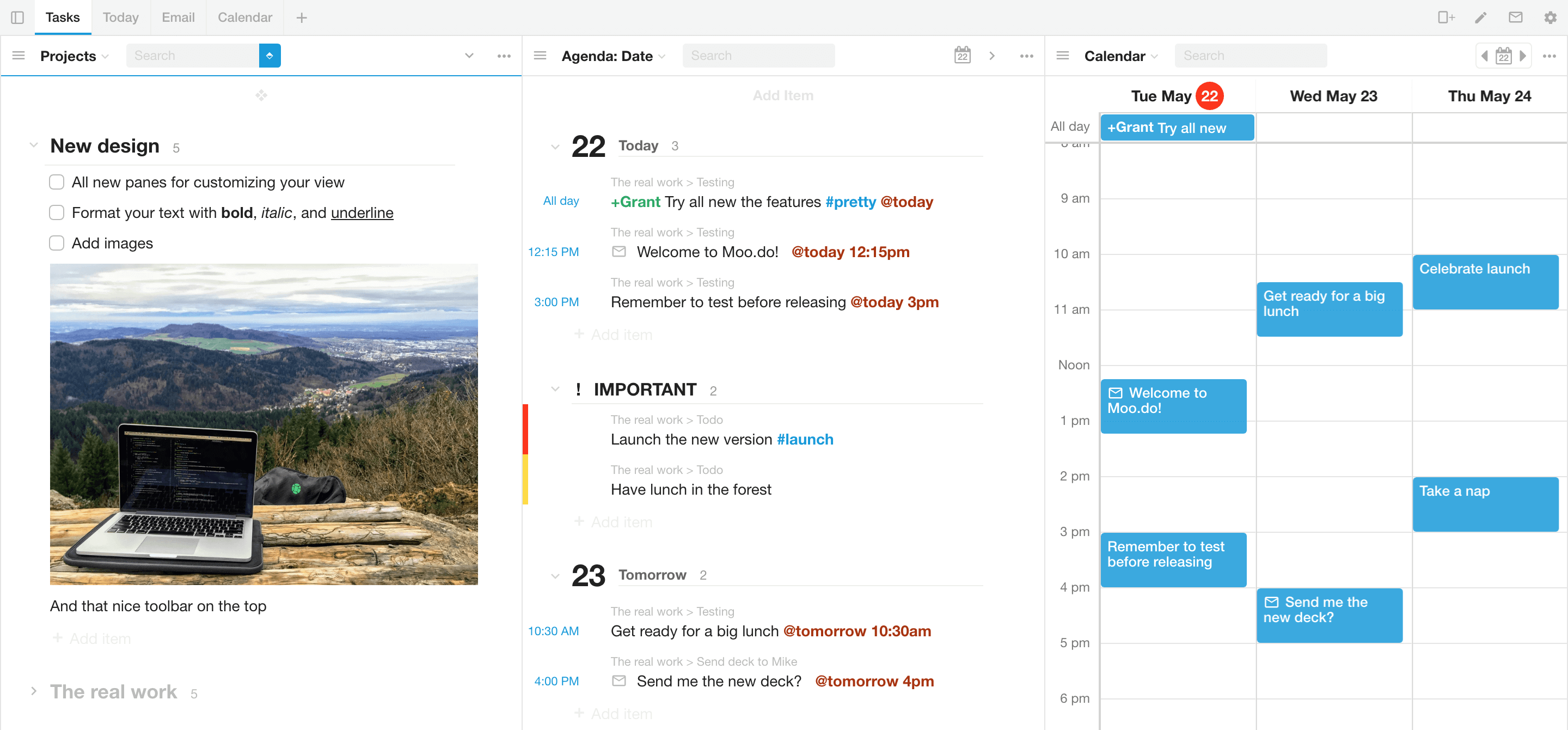 We began this year with a new goal: to make Moo.do into a killer task management app. Until now we had been focused on putting the pieces together: outlining, task management, calendar, and email. And with that complete, we took a step back to redesign Moo.do around the way people actually use it.
We worked with a group of wonderful beta testers, experimenting and tweaking both our and their ideas until they felt right, resulting in what we think is a much better product.
And today we are very happy to finally release this update in public beta to everyone!
Get into it
The new web app is at a new address: https://www.moo.do/web/. The Mac and Windows apps will update themselves, or download them and the new Linux app at https://www.moo.do/download/. In the app you will see a "Use latest version" checkbox in the Moo.dosystem File menu to toggle between the latest version and the previous version. On Windows 8 and 10, you may need to press Alt to open the File menu.
Note: This update is for the desktop apps. An update for the mobile apps will be coming in a few weeks.
New design
We've updated the design of the app with a more modern look. The new top toolbar makes it easy to switch boards and takes up less of that crucial horizontal space, or the sidebar is still an option if you prefer it.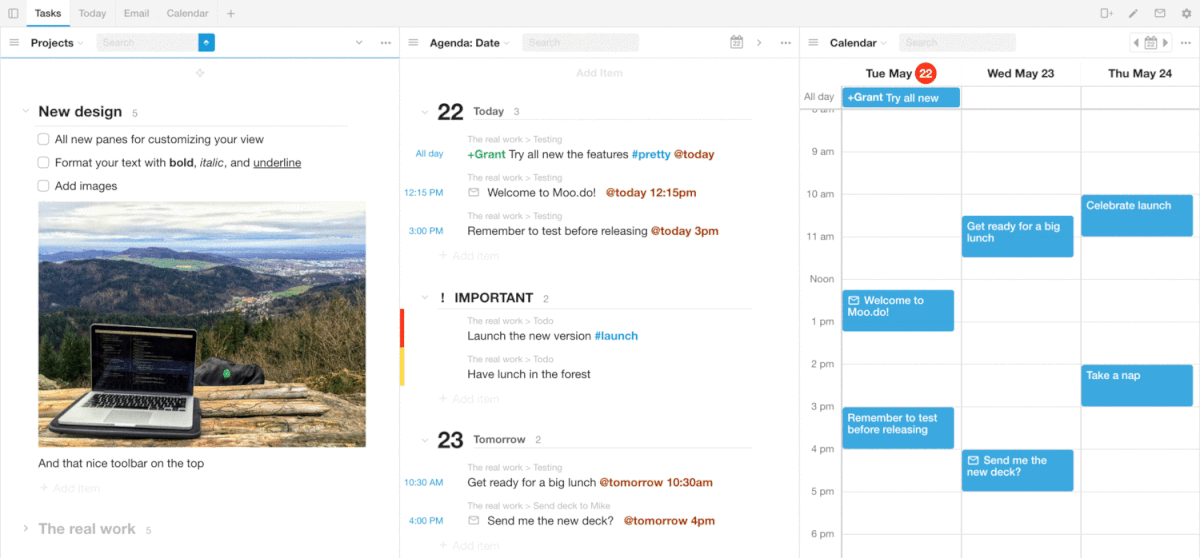 View your tasks from any angle
We love the Outline for quickly laying out projects and tasks, but there's often better ways to get an overview of your day or see tasks in different contexts. So Moo.do now has many ways to view and manage your data.
Project View
The new Project View retains all the power of the Outline with collapsible nodes, but is laid out in a familiar task-management view grouped by project.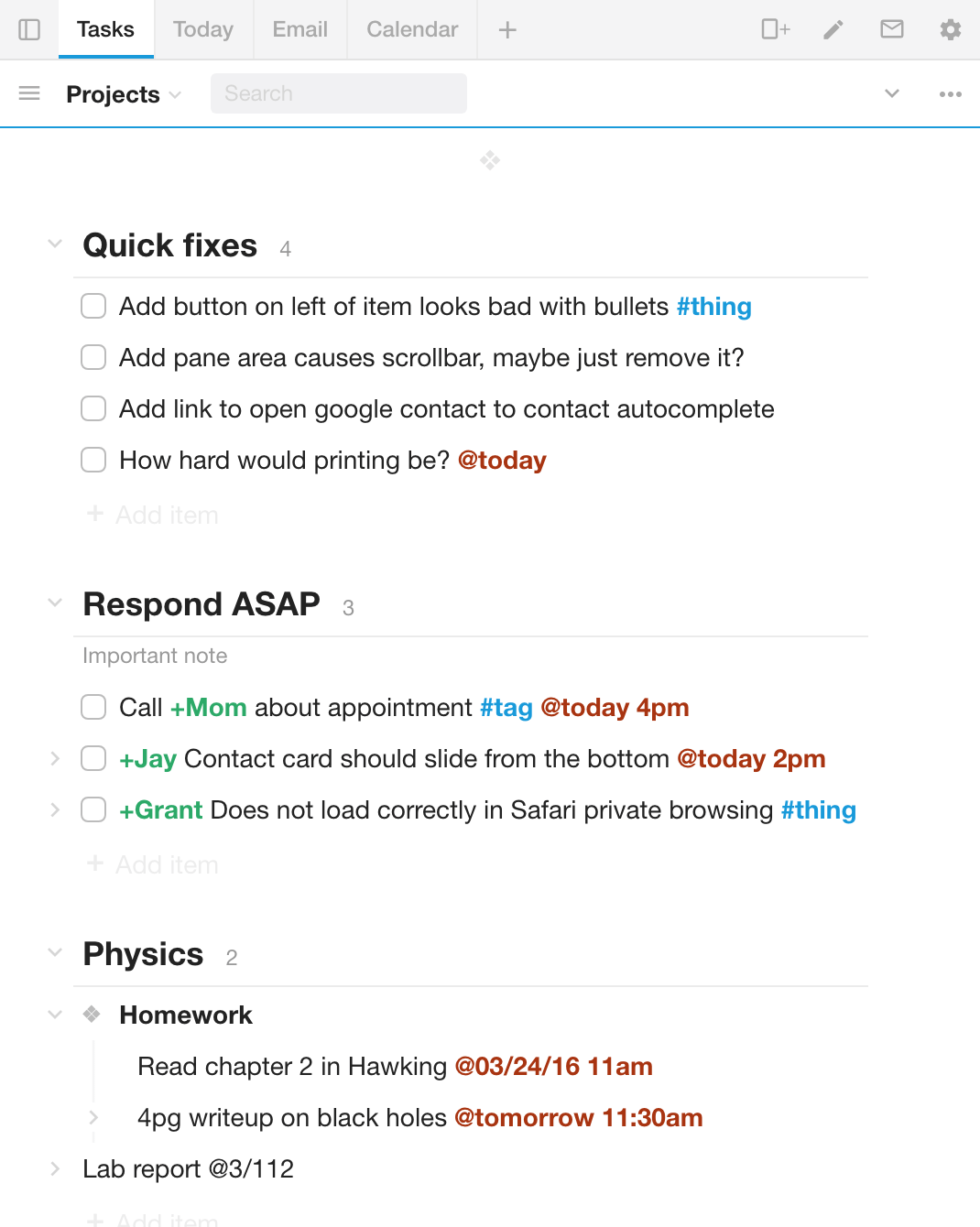 Tag, Contact, Priority views
For those people who like to organize with Tags (as context for GTD or to separate phases of a project), the Tag view makes it easy to view projects grouped by tag and drag items between tag blocks. It's similarly easy to manage and reorganize tasks by contact or priority.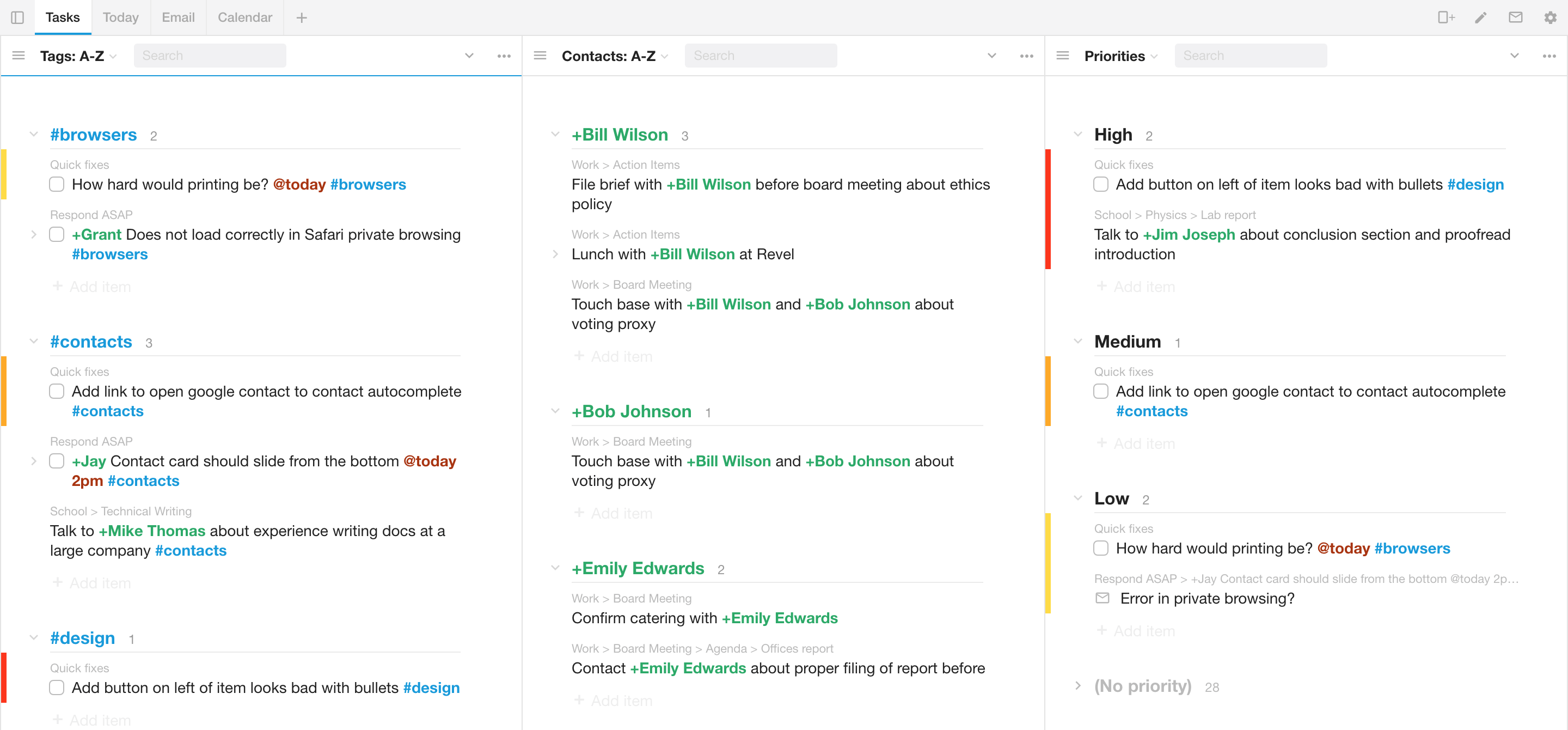 Agenda view
The Agenda has been completely redesigned. Each item now shows its context and is expandable to show all its children. The Agenda has new Today/Week/All views, and it's customizable to change the order and show any Tags you'd like. And it just looks nicer.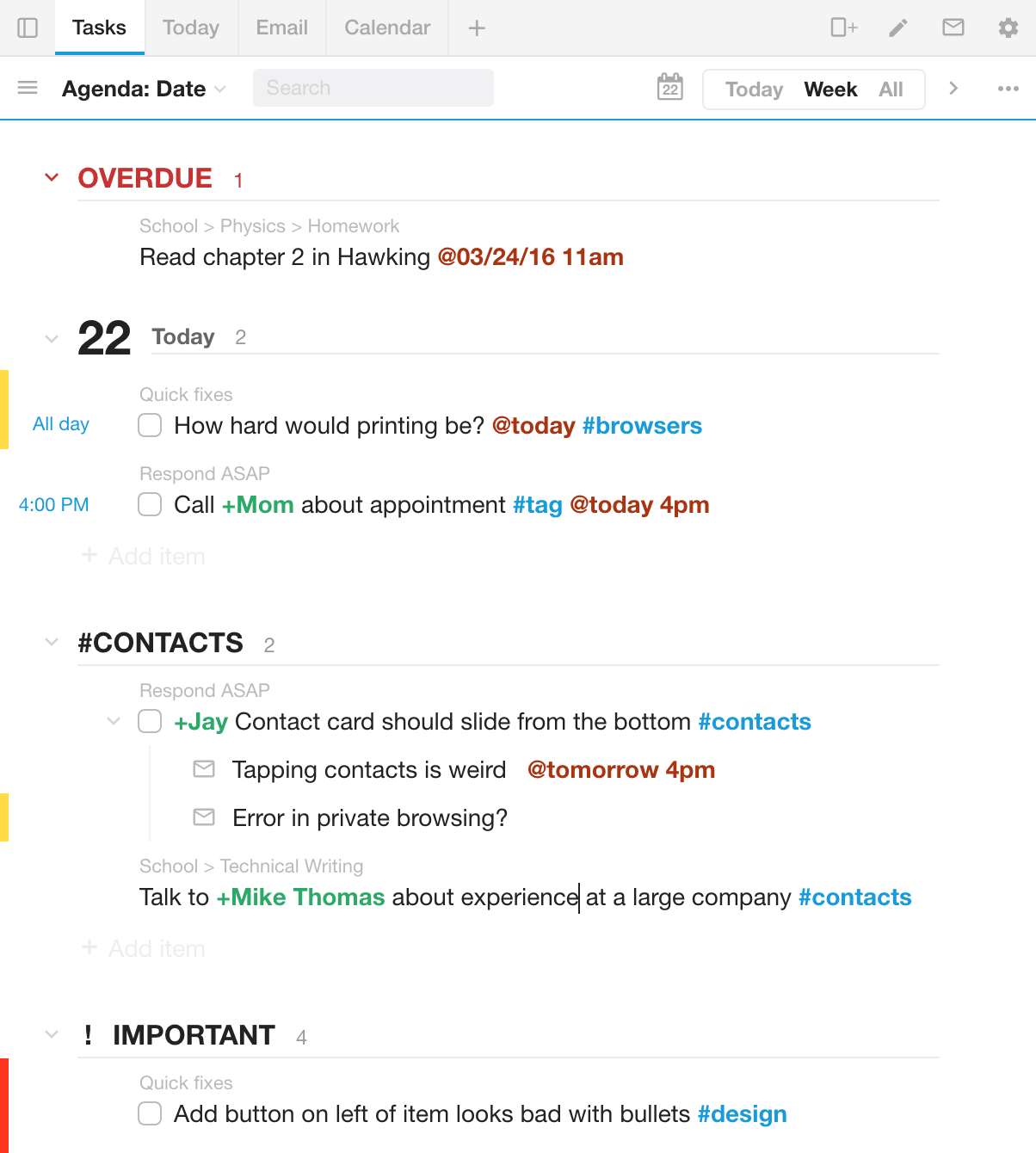 Calendar view is now free
We feel that the calendar is a core feature of Moo.do, so we're making it a free feature. And it has a new 3 day (customizable) view.
Sorting
The new view modes can be sorted alphabetically, by number of items, priority, date due, and date created. And the Agenda can be sorted by date created and date completed, which is very useful to track the tasks you've completed over time.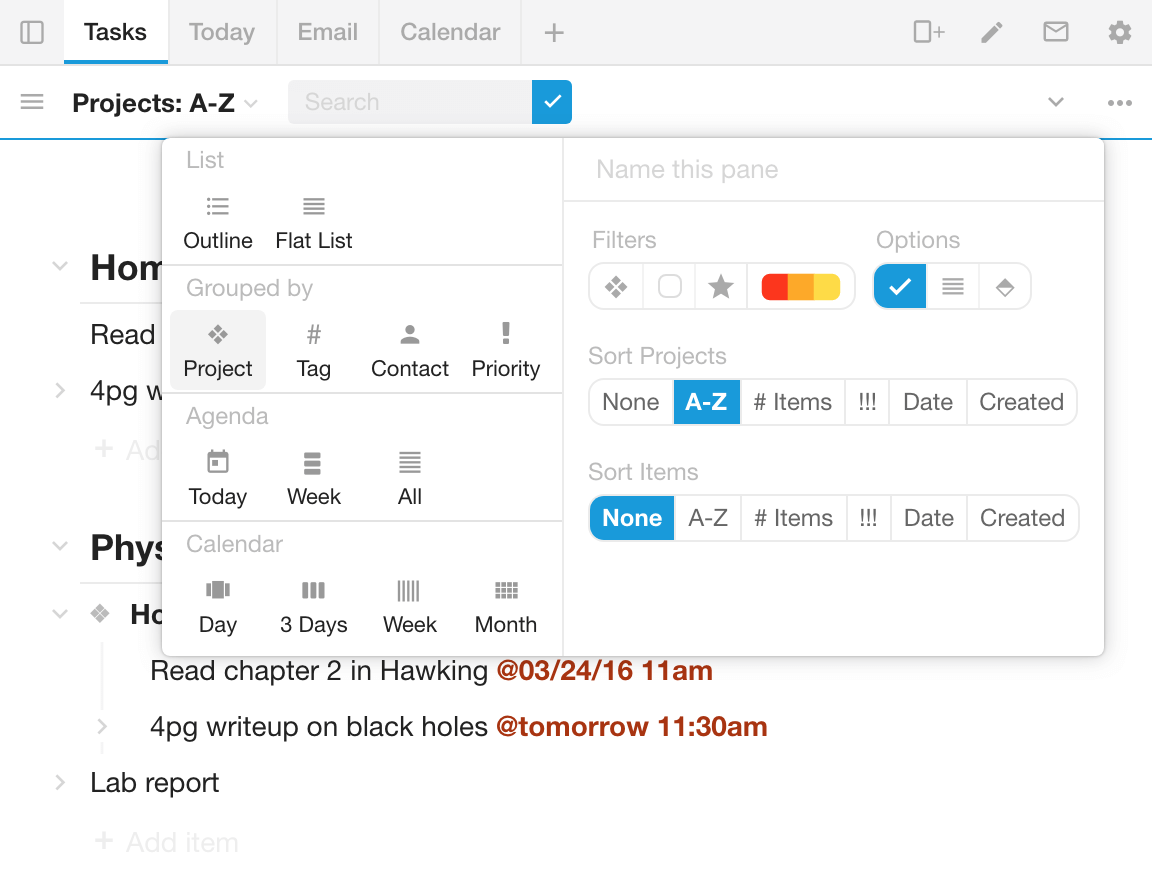 Search upgraded
Search now supports OR to show results from multiple searches. New date-based searches like before:@tomorrow and @overdue help keep on top of what to do next. And you can type $ to quickly autocomplete an item to zoom into.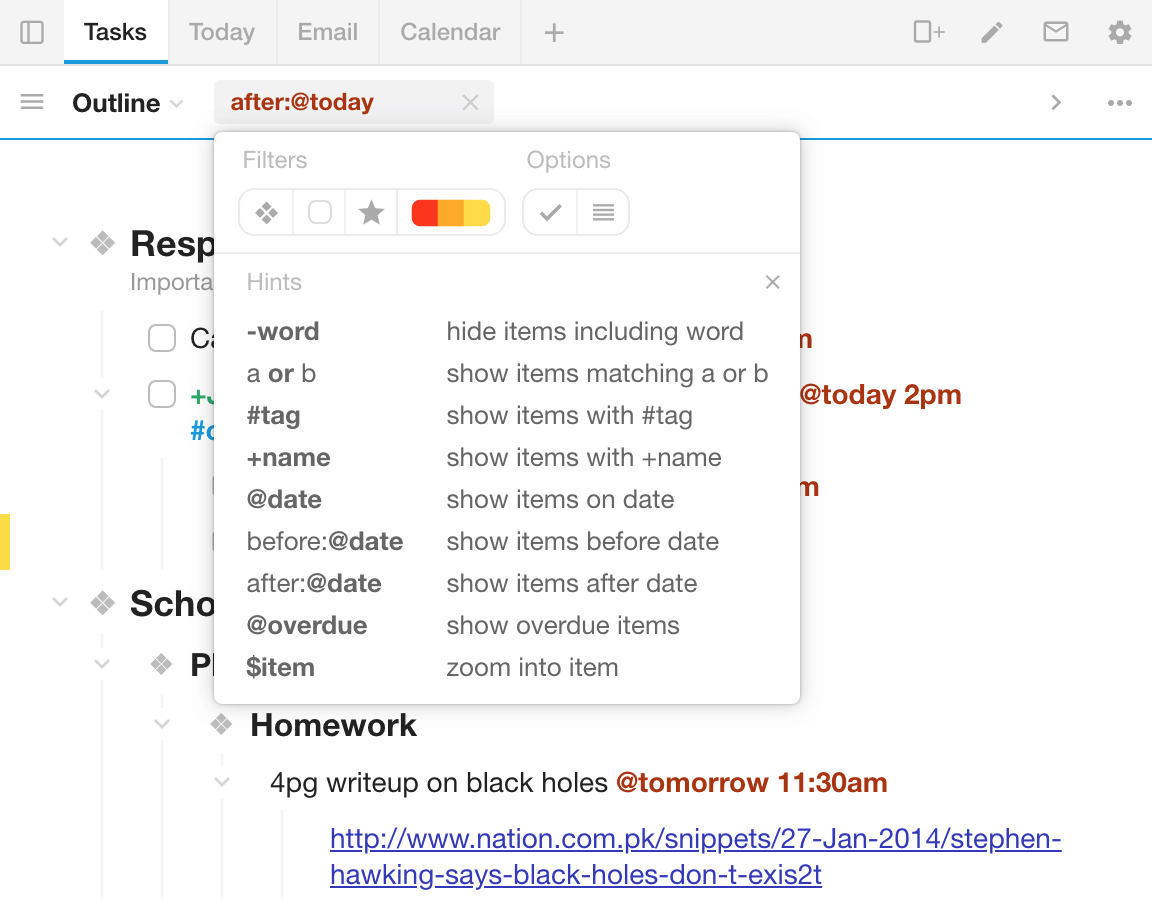 Design your document
You can now format text and include inline images. New Display Settings give more control over how your document looks. Notes and emails support rich text. And panes are resizable to fully customize what you're focused on.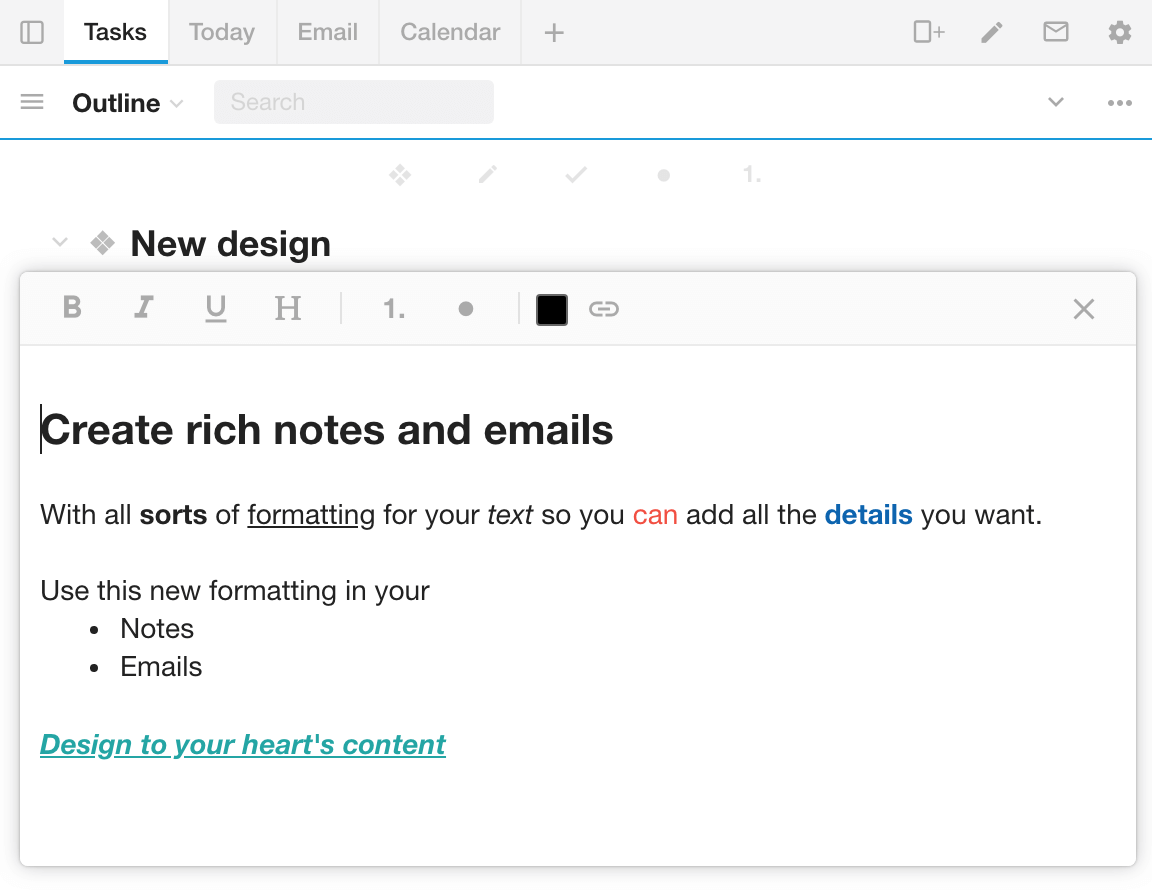 More powerful Boards
Boards can be quickly switched by hotkey + Shift + 1,2,3,…, dragged to rearrange, and have a new option to Clone. Each pane has an option to "Open in new board." And an extra fun feature: you can drag an item onto a board to switch to it and drop the item into that board.
Speed and fixes
We made some large changes to the core infrastructure, so Moo.do is now smaller in size, loads faster, syncs faster, and collapses items faster. A lot of bugs have been fixed, most notably: calendar and email sync problems, notification bugs, and dates not rolling over to the next day correctly.
Significant changes
We kept this update in beta for so long because we were making some breaking changes that we wanted to stabilize before releasing.
Soft dates (

@now

,

@next

,

@soon

,

@later

,

@someday

) are being replaced by a more flexible system. Now that the Agenda supports adding any

#tag

, you have full control over what kind of soft dates you'd like to use, and how to order them. The old soft dates will appear on the agenda with their corresponding tag, like

@soon

and

#soon

will go together.
The "Show Bullets" display mode is removed in favor of prefixes. If you were using "Show Bullets", then items without prefixes will be converted to use the Bullet prefix.
Items now hide when completed, so you don't need to archive items after completing. If you'd like to see completed items, there's a search filter to "show completed items."

+ Click

tags and dates to search for them, and

+ Click

to remove them
Many of the hotkeys have been changed and improved. Press

+ /

to see the Hotkey list.
Lots of new settings
Default item type: Set the default prefix for new items. If you prefer the bulleted look of an Outliner, choose Bullet. If you prefer a checklist, choose Task. If you prefer the flat look of a document, choose None.
Show Markdown formatting: The Markdown formatting characters are hidden by default now, but you can optionally show them if you like.
Agenda sorting: Rearrange the order of the Agenda and add any custom tags onto the Agenda.
Beta
Our beta program has been so successful that we're going to keep it going and open it up to everyone, although there will be a much shorter time between releases in the future. If you would like to help us shape the product, check out https://www.moo.do/beta/ to join our Slack community.
What's next
Our next major project will be to put some serious work into the iOS and Android apps, fixing bugs and bringing it up to the quality level of the desktop app.